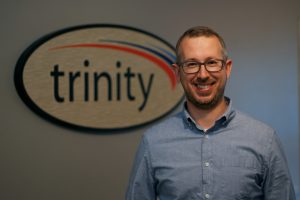 Nathan
Caparolie
Senior Pastor
Where are you from and what is your background?
I am a native of the High Country. This is where my wife and I have our roots, and we both have a strong connection to Trinity, having met here, and having begun our relationship in the youth group. I lived in VA for a few years as a child while my father was pastoring a church, and I attended college at Mars Hill University, in Mars Hill, NC where I received my degree in Religion and Philosophy. I also worked as a church planter in the Hickory area immediately following school, and held several associate ministry positions before becoming Senior Pastor.
Tell us about the special people in your life.
My wife, Erin, is my "highschool sweetheart" and the love of my life. She's a beautiful wife, mother, and friend with incredible discernment, deep insight, and strong and consistent faith. I am blessed to share life with her. We have three gifted and kind-hearted children who fill our lives and empty our refrigerator. Our daughter is very musical and studious, and our twin boys are avid readers, video-gamers, and love being outside.
What is something most people might not know about you?
I once went to McDonald's in a helicopter!
What are you most likely to do in your spare time?
In my spare time I love exploring the area on my motorcycle and taking pictures of the beautiful sights that make this place so special. I also love playing and recording music, doing projects around the house, riding four wheelers, taking naps, and pretending to be a race car driver on XBOX.
How has knowing Jesus Christ changed your life?
My relationship with Jesus began when I accepted Him as my Savior at the age of five. I remember the overwhelming sense of His love and presence, and the peace and joy I felt when I asked for, and received, His forgiveness for my sins! Since then, He has changed every part of my life by calling me into ministry, guiding me in my daily walk, leading me to live beyond what I think are my limits, and blessing me beyond what I ever imagined or deserved.
What drew you to become a part of Trinity?
I began attending Trinity because of the love and excitement that emanated from our former pastor, Dr. Wade Ivey, when I was a youth. I was hungry for God and the passion I saw in him and the people of this church was magnetic. Everyone was so authentic and there was so much freedom and power in worship. I knew I had found my spiritual home!
Trinity is known as "a place of grace." What does that mean to you?
Personally, it means that I don't have to be perfect, and that I can be honest about my weaknesses without having to pretend that I'm something I'm not. As a pastor, I am free to work from (or out of) His grace, not for His grace. It also means that there's a place here for anyone who will come to Him by faith, regardless of what they've done or who they've been.
What do you find meaningful about the ministry God has given you?
Being a pastor at Trinity has given me an incredible opportunity to grow in ministry. I love hearing from God and sharing what He has shown me with others. Seeing other people's lives changed by His love in real and lasting ways brings me great joy! Sharing life with other believers in ministry and community has been a dream come true. But the greatest blessing is the privilege of being a co-worker with Jesus Christ, knowing His pleasure and presence as I live in love and service to the One who first loved and served me!