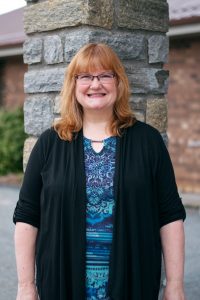 Kathy
Mann
Financial Secretary
Where are you from and what is your background?
I was born in Kansas and moved to Cary, NC when I was 12 years old. I now live in Ashe County, NC. My husband and I both went back to school with 5 young children to complete bachelor's degrees. I have worked full time for Appalachian State University for many years and am serving as Scholarship Coordinator for the College of Business.
Tell us about the special people in your life.
I met my immensely talented husband, Michael, at Carolina Bible Camp when I was 14. We have been married over 44 years. We are the parents of five talented, above-average children and one amazing grandchild: Nick (who was killed in a car accident at age 16), Kristen (married to Alex), Matt, Josh (married to Carol Ann and is the father of our grandson, Merritt), and Jesse (married to Brittany).
What is something most people might not know about you?
If most people don't know, maybe I should leave it a mystery.
What are you most likely to do in your spare time?
Paint and other creative endeavors, watch movies, organize/plan things, do logic puzzles.
How has knowing Jesus Christ changed your life?
I cannot imagine trying to do life without my close relationship to Him. I am never alone even in some of the darkest times in my life. I don't spend time worrying because I know He has good for me and loves me beyond measure. I can do all things through Christ who strengthens me.
What drew you to become a part of Trinity?
My son, Nick came to Trinity with friends and became part of the wonderful youth group. He fell in love with Jesus and the change in him was evident in everything. When I visited, I felt the presence of the Holy Spirit and the love of Jesus. Even though I grew up in church, I found a family here like I never had anywhere else.
Trinity is known as "a place of grace." What does that mean to you?
I am loved and accepted just as I am. The unmerited favor of God is taught and demonstrated here. Grace changes everything.
What do you find meaningful about the ministry God has given you?
If I do my job well and prayerfully, it frees others to do their ministries without a lot of financial stress. Fundraising is not my responsibility but if I can carefully and with integrity manage and account for the funds God so generously provides, the ministries of the church can be carried out more effectively and peacefully.