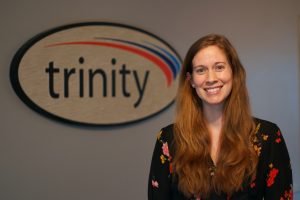 Brittany
Berry
Pre-K/Nursery Ministry Leader
Where are you from and what is your background?
My name is Brittany Berry. I've grown up here in Boone for most of my life. I am presently a stay-at-home mom. Before that I was a nanny and worked in a preschool.
Tell us about the special people in your life.
I married my high-school sweetheart and we will be celebrating our 15 year anniversary this year. I have the greatest honor of raising 7 children. Their ages range from 1 to 24 years old.
What is something most people might not know about you?
Something that almost no one knows about me (even my kids don't know) is that I hate bananas and I use to have nightmares about them. (Don't laugh)
What are you most likely to do in your spare time?
Between raising kids and homeschooling I do not have a lot of spare time, but when I do, I enjoy watching home make-over shows or taking a nap.
How has knowing Jesus Christ changed your life?
When I was five I asked Jesus to be my best friend. It hasn't been an easy journey. There have been many highs and lows in life, but I know that God is molding me through all of it to be the person he created me to be.
What drew you to become a part of Trinity?
When I was a preteen my older sister joined the youth group here. Me being a younger sister, I wanted to do everything she did. Once I started coming here I experienced God's love in a big way through the pastor and it's people.
Trinity is known as "a place of grace." What does that mean to you?
Trinity is known as "a place of grace." To me this means that you come as you are. That God and this place will meet you where you are. Because all of us need grace.
What do you find meaningful about the ministry God has given you?
I believe that helping in the pre-k and nursery ministry is extremely meaningful. To be a part of sewing seeds of God's love and truth into these precious little people is priceless and I'm blessed to be a part of it.