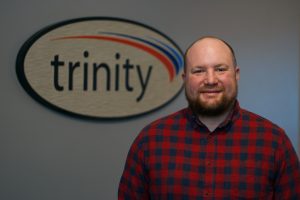 Hunter
Price
Associate Pastor
Where are you from and what is your background?
I am from the Piedmont of North Carolina, China Grove to be exact. My background is in student ministry, sustainable technology, and retail construction/facilities.
Tell us about the special people in your life.
I am married to my best friend and love of my life Morgan. We met in college when I was her bible study leader. We have two beautiful children that look like their mother. Our son Blake (a.k.a. Blakester) is 4 years old and our little girl Raelynn is 2 and half whom we affectionately call, "Rae."
What is something most people might not know about you?
When I was about 10, my sister and I were on an English horse showing team. I rode in many horse shows and placed winning ribbons. I even competed in shows at Broyhill Equestrian Center in Blowing Rock, NC.
What are you most likely to do in your spare time?
What is spare time? When I am afforded the opportunity, I enjoy hunting, fishing, shooting, or riding anything with a motor.
How has knowing Jesus Christ changed your life?
I cannot imagine what my life would be like without Jesus. He kept me away from much pain and suffering, by guiding my path. Jesus changed my life projection from being one of pain to one of peace and fulfillment. I would not know how to love others without experiencing the true love of Christ.
What drew you to become a part of Trinity?
Morgan and I were on a progressive dinner with our AppState campus ministry, BCM. Our last stop of many that night was Trinity. I could feel the sweetness of the presence of the Holy Spirit when I walked into the building. Pastor Nathan led the group in Communion. I had never experienced Communion in the way I did that night. It was truly an act of worship. We left that night knowing that we had found our home.
Trinity is known as "a place of grace." What does that mean to you?
It means to me that it is where Jesus dwells. Jesus is grace and His grace is so strong in our body of believers. Trinity is a safe place to be transparent and honest about your burdens. Jesus' grace that you experience at Trinity liberates you from your burdens. His grace and love are the sweetness you feel when you set foot inside Trinity's doors.
What do you find meaningful about the ministry God has given you?
In one word, life. Life is the most meaningful part of my ministry. I get to live life with the fellow believers that Jesus has placed in my flock. I get to be alongside my brothers and sisters in their highs and lows. I am able to encourage them and guide them as we live life together.