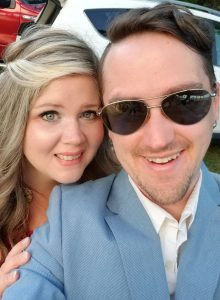 Travis
Price
Worship Leader
Where are you from and what is your background?
I am from Wilmington, North Carolina. My wife Kim and I have two beautiful children and we all absolutely love Trinity! We are so excited to be a part of what God is doing through the music ministry!
Tell us about the special people in your life.
My family is really special to me. I met my wife Kim at church Youth Group in Wilmington and she is such an amazing partner and worship leader. My children and extended family are so amazing and supportive too! Finally, I'm so honored to serve with such an amazing staff at Trinity.
What is something most people might not know about you?
Most people may not know that I was hit by a car while riding my bicycle when I was 11. I totaled his car, had multiple fractures in my skull, and still have glass in my head and arms. But I'm still here because God has a purpose in my life.
What are you most likely to do in your spare time?
I like to hike, play video games, play with my kids, but mostly I love to play music and sing to the Lord in my spare time. Kim and I share the love for worship and do it as often as we can.
How has knowing Jesus Christ changed your life?
Knowing Jesus makes life so exciting because anything can happen! I've seen so many miracles in my own life as well as others. There is nothing He can't do!
What drew you to become a part of Trinity?
The Lord drew us to Trinity when we were obedient to what He was calling us to do in Wilmington. He was calling us to create a student worship band. After that amazing worship night, the parents of my students gave us an Air BNB gift certificate. We decided to go to West Jefferson and after meeting a Trinity congregation member, we felt drawn to reach out to Pastor Nathan. God was in it all and we are still amazed at all He has done!
Trinity is known as "a place of grace." What does that mean to you?
We show grace because we've been shown grace. There is nothing that we can do to deserve the grace that has been given to us by Jesus dying on the cross. Trinity is a body of believers that truly reflect His love and grace.
What do you find meaningful about the ministry God has given you?
Seeing folks grow in their relationship with the Lord is truly meaningful. Worship spurs on an intimacy with the Lord that deepens relationships with Him. He fills the room in a very real way when we worship Him and it is so exciting to see lives changed because of His presence.